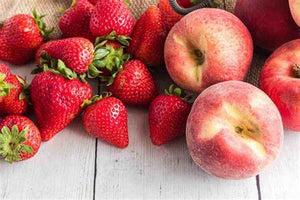 COMING SOON
Branch & Vine's Strawberry Peach Balsamic Jam is a delightful blend of sweet and tangy flavors that will leave your taste buds tingling with excitement.
Our jam is made from the freshest, juiciest strawberries and peaches, expertly combined with a hint of balsamic vinegar to bring out the natural sweetness of the fruits.
The jam has a luscious texture, with chunks of fruit that burst in your mouth with each bite. The sweet notes of the strawberries and peaches are perfectly balanced by the tangy, slightly acidic taste of the balsamic vinegar, which adds a depth of flavor that is both intriguing and satisfying.
This jam is perfect for spreading on toast, muffins, or scones, and can also be used as a topping for yogurt or ice cream. The combination of sweet and tangy flavors in Branch & Vine's strawberry peach jam with balsamic vinegar is a real winner, making it a must-try for anyone who loves the taste of fresh, juicy fruit.